'In a few days': How establishment acts in the dark
The first steps of 11Onze have not been easy. The organisation has suffered foul play, as Toni Mata, 11Onze's content director, acknowledges in a new episode of Estat de la Nació. The executive offers details of 'In a few days', a documentary about the first months of the entity that will be released on 23 April.
Which are 11Onze's aspirations? What obstacles have been put in its way? Has it suffered foul play on the part of traditional banks? These are some of the questions that 'En 4 dies' will answer on 23 April, according to Toni Mata, content director of 11Onze. This documentary, which will be available for free at 11onze.cat, offers details about the first steps of the entity and, according to Mata, allows us to see "how establishment acts when no one is watching."
Asked about the obstacles that 11Onze has faced, the executive indicates that "they will be explained in detail in the documentary". Mata says that establishment "have done things that should not have been done." And he reflects on the lack of presence of 11Onze in many media: "We have to start looking at who finances media so we start to understand how the country really works."
"We want this information to circulate, we want people to see what happens when you try to start up a financial institution in Catalonia," adds Toni Mata.
A revolutionary aim
Regarding the spirit of the entity, Toni Mata explains "this is something that comes from below. We want people to be able to use this financial institution so that this country can grow."
As for the title of the documentary, Toni Mata explains that it comes from the answer given to all the people who asked when they would be able to open an 11Onze account at the beginning: "Soon, in a few days".
11Onze is the fintech community of Catalonia. Open an account by downloading the super app El Canut on Android and Apple and join the revolution!
If you liked this article, we recommend you read: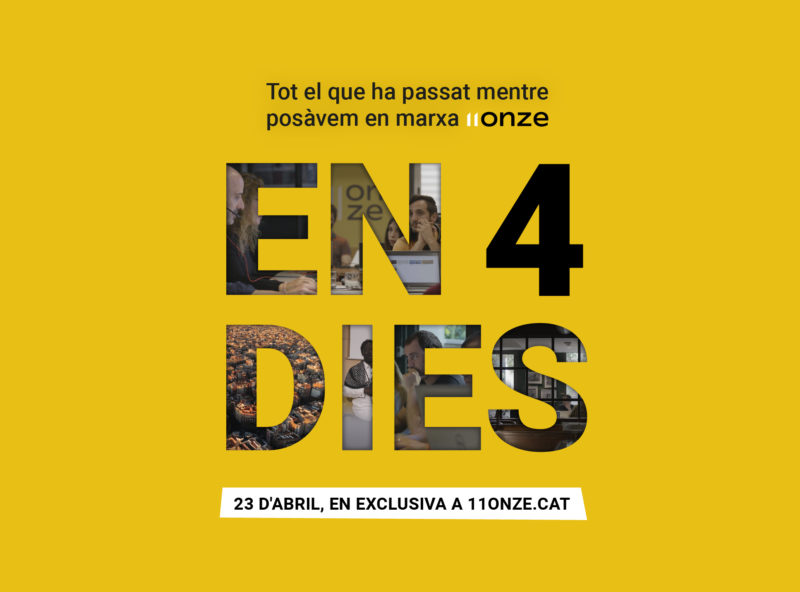 11Onze
All that happened while we were starting up
4 min read
11Onze explains in a documentary the obstacles it